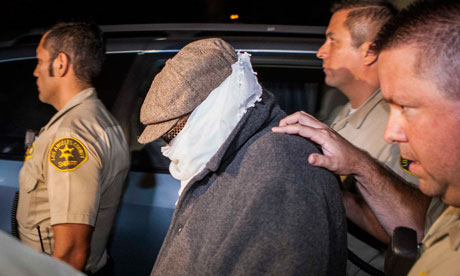 Gangsta filmmaker, Nakoula Basseley Nakoula, who had a whole lot of chutzpah when he was using a Jewish name--Sam Bacile--is showing his real cajones here
Now according to Ms Peyser and the GOP spinmiesters:
Nakoula is the creator of "Innocence of Muslims,'' a sleazy film meant to hit Islamists where they live. It's been blamed for anti-American riots in 20 countries, from Libya to Lebanon.
It may not be a good film, but it has every right to exist — a right guaranteed by no less than the US Constitution.
Somewhere, Thomas Jefferson weeps

Read more: http://www.nypost.com/p/news/international/appeasing_thugs_by_trampling_our_PMW5Bvfib9O1hibaUgNdAK#ixzz26m69pu1B
Using that kind of logic, then we have every right to paint a swastika on a synagogue
i don't think Jefferson and the Founding Fathers intended the First Amendment to be used to inspire putsches & pogroms by some neo-fascist clowns hiding behind the anonymity of the internet only to call in the police when the shiite hits the fan.
All the Tea Party "patriots" are of course yelling out sharia law whilst the so-called liberals are screaming out against religious intolerance as they dictate to the Catholic Church how they should include birth control for their workers even though it's anathema to their faith...and all you shitheads are WRONG
If, like Sean Hannity, we ask ourselves
then Grenada should be on high alert, since the invasion is imminent
...although that may be too big a target for only four Americans dead
Personally i think it's time to grow the fuck up America, pay taxes, and cut the fuck out of all unnecessary spending--millions spent on Roger Clemens & Lance Armstrong, the DEA [legalize drugs already], FBI profilers (the usual suspects are always the same), federal prisons [send all those Wall Street crooks to Rikers], the death penalty industry, abolish the FCC and there's at least a thousand other way to get rid of the deficit, OUR main problem--and then abolish ObamaCare and hire Germany to show us how to do healthcare RIGHT!
But we can all stick to all this petty bullshit and become a borderline third world nation: